You booked your flights to Thailand and you're starting the planning session? Here's everything you need to know when it comes to transportation in Thailand. Backpacking Thailand sounds fun, but getting around the country isn't always super easy! (Sometimes, I wish I could snap my fingers and teleport myself elsewhere.)
This guide will be perfect for you especially if this trip is your first one in Southeast Asia. I'll explain the different types of transportation available in Thailand as well as how to get around the country. Depending on the time you have, you might have to prioritize shorter options, but if you do have enough time, take a look at the budget-friendly options too.
Before we start with all this blah, blah, I'd like to reassure you. Traveling around Thailand isn't too dangerous. It's easy to get "ripped off" as a tourist, but I'll make sure to tell you all about the scams. That being said, traveling by bus, flight, train or van with reputable companies should be all good!
Understanding the Different Transport Options in Thailand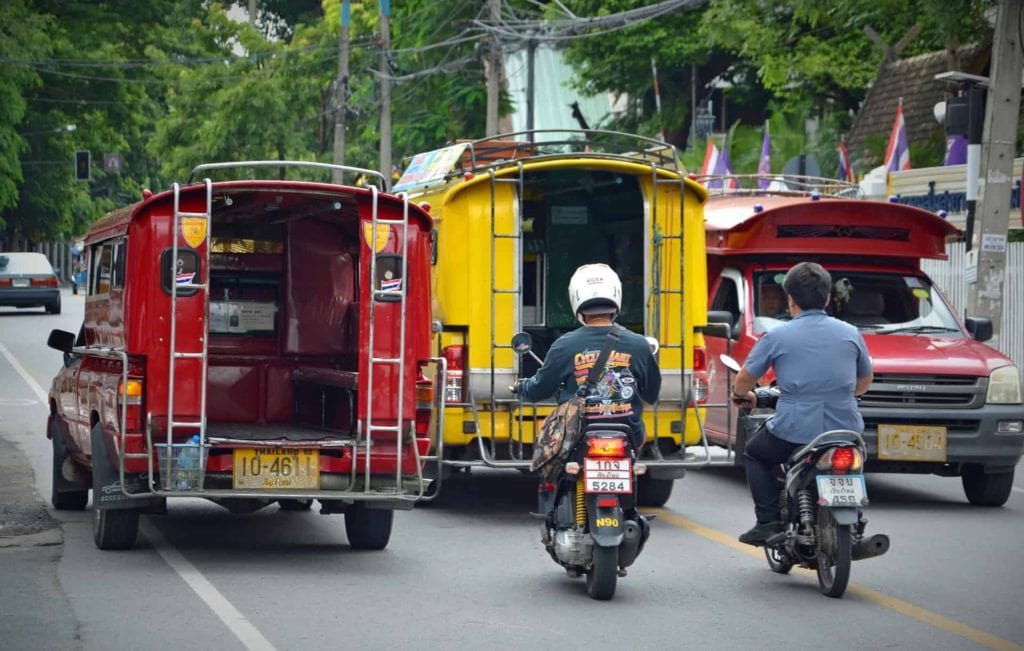 If it's your first trip to Southeast Asia, you might not be aware of all the options yet when it comes to transportation. Ever heard of a tuk-tuk? Motorbike drivers? Or even songthaews?
As soon as you land in Thailand, you'll be amazed by the options available to get around a city. These options are great and affordable if you're looking for a ride to the city or for short distances.
What's a tuk-tuk?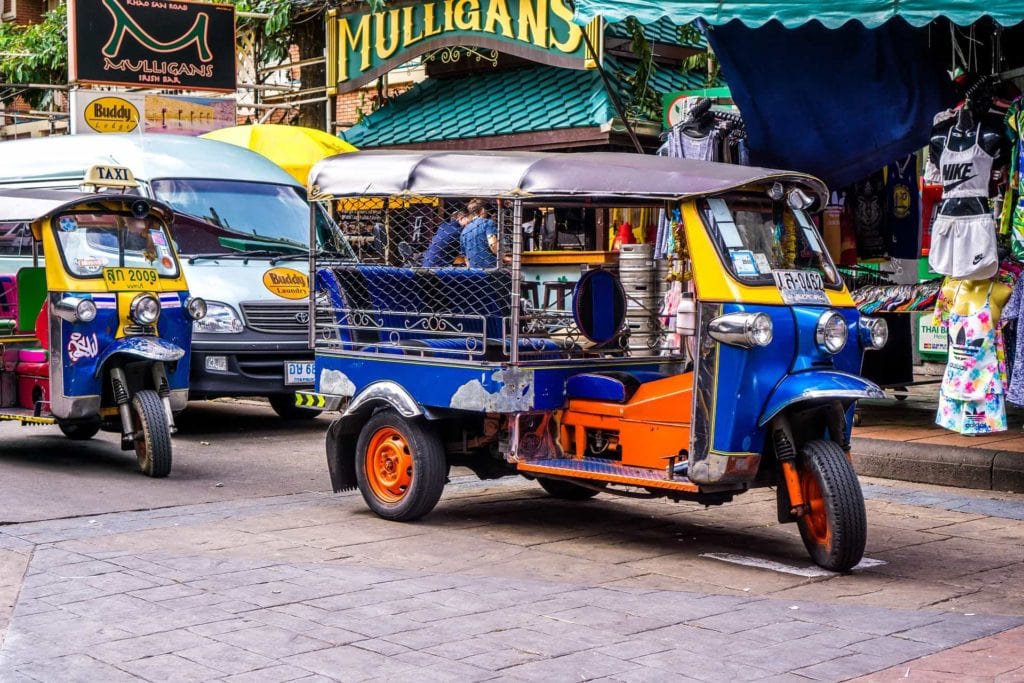 A tuk-tuk (also known as a rickshaw) is basically a three-wheel scooter and is used as a taxi in Southeast Asia. There's no fixed price for a tuk-tuk, you basically have to negotiate your price with the driver. Ideally, you're going to negotiate before sitting in the tuk-tuk. You can normally fit 1 to 2 (or maybe 3) people in a tuk-tuk.
What's a motorbike taxi?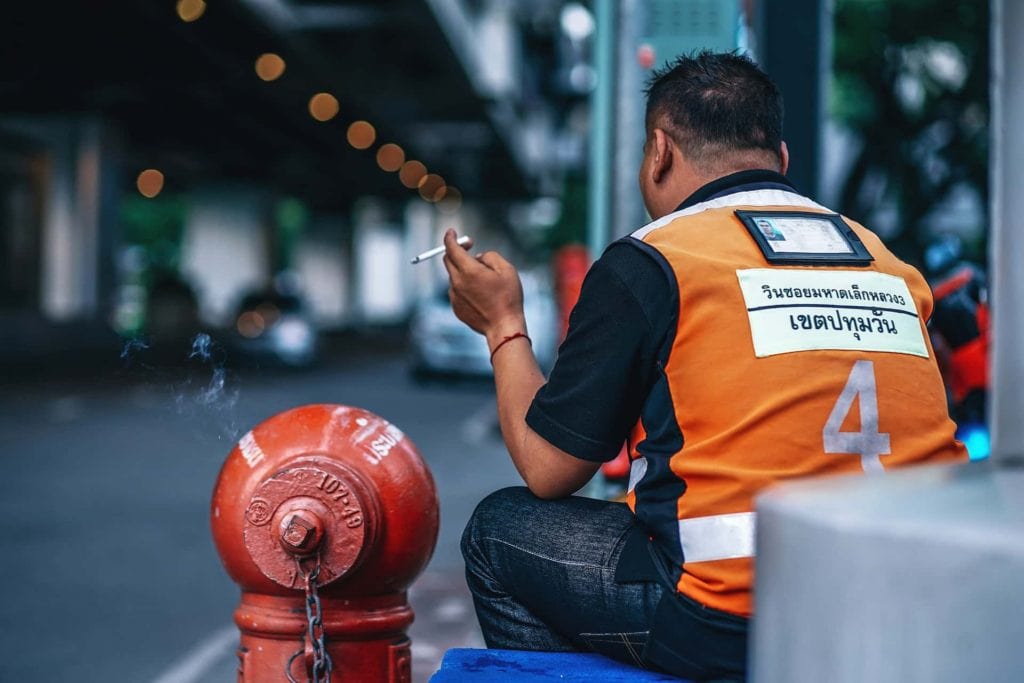 ---
Planning your upcoming adventures? Travel by bus! (It's cheap!)
---
If you only have a backpack, a great option to consider is the motorbike taxi driver. This option is perfect if you're traveling solo. In Thailand, most of the motorbike taxi drivers were an orange jacket so they are easy to recognize. Similar to the tuk-tuk drivers, you should always agree on a price beforehand.
What's a Songthaew?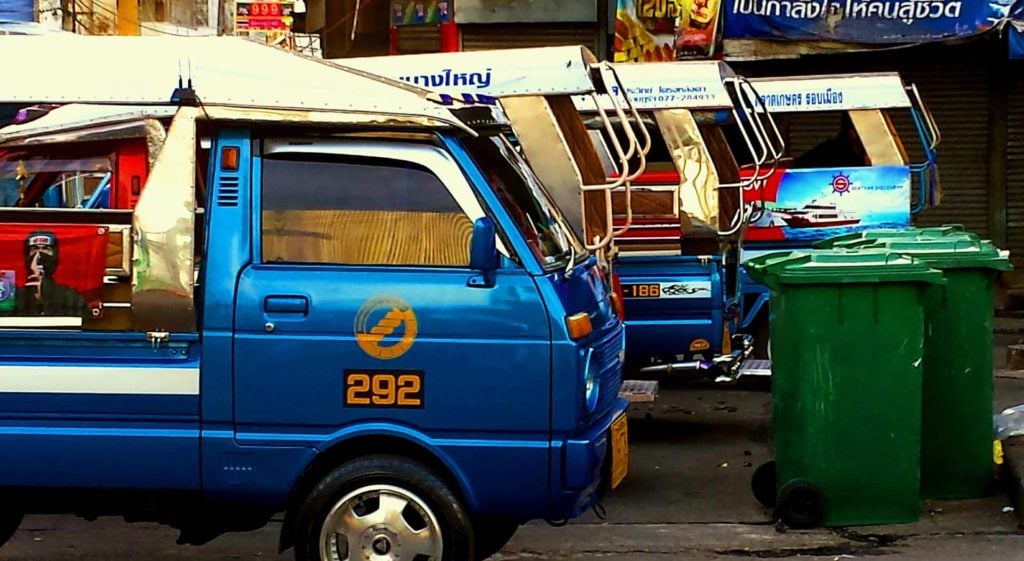 A Songthaew is basically a small truck/pick-up adapted with seats in the back. These are normally super cheap and used by locals too. As you are sharing the ride with other people, it shouldn't be too expensive. Obviously, you also need to agree on the price first.
What about "normal taxis"?
I'm not a big fan of taxis in Southeast Asia as this it's easy to get scammed. Some taxi drivers could drive you in wrong directions, ask for extra money or bring you to shops instead of your hotels. To avoid these scams, I normally prefer to use Grab as it shows you a fixed price beforehand and reviews from previous customers. Grab is a popular app in Southeast Asia, but you will need the Internet to be able to use it.
PSST.
You can collect a SIM card at the airport, or even

pay your SIM card in advance

and simply pick it up at the airport). Note that the SIM cards bought at the airport are always more expensive. Although, it's sometimes more convenient to have it at the airport especially if you're planning on using Grab. (You know how airport wifis can be bad!)
Now that you can reach your destination in a city, let's take a look at the option when it comes to getting around Thailand.
How to Get Around Thailand by Flight
The fastest option to get around Thailand is obviously by flight. Although, it's not necessarily the cheapest. It is worth checking though because sometimes you can get a flight for $10 more than the bus and you could save plenty of your precious time in Thailand.
---
Grab your Airbnb discount!
Did you know? You could get an extra Airbnb discount using this
link
! If you already have an account, you can create a new one. Thank me later!
---
You can check
AirAsia
as they have regular sales which could save you money (especially if you're booking your flights a few weeks/months in advance).
---
POPULAR TRAVEL ROUTES (Click on destinations to check the price)
From Bangkok:
From Chiang Mai:
From Krabi:
---
How to Get Around Thailand by Train
Another fast way to consider which is also budget-friendly is traveling around Thailand by train. It's more comfortable than the bus and it gets you to your destination faster. Although, the bus would still be cheaper. I'd say it's the best mid-range option when it comes to getting around Thailand.
You can check trains and book your tickets on 12GO. Note that trains aren't running everywhere in Thailand.
---
POPULAR TRAVEL ROUTES (Click on destinations to check the price)
From Bangkok:
From Chiang Mai:
---
How to get around Thailand by Bus (or Van)
The most budget-friendly option when it comes to getting around Thailand is by bus. You can normally take the overnight buses too if you're covering a long distance (which could make you save money on accommodation too). It's not the most comfortable option, but I used to travel on overnight buses a lot when I was a bit younger.
If you are wondering how to travel to Thailand by bus and more importantly how to find the right companies and all, it's pretty easy!
I normally use 12GO to find the right bus for my Thailand travels. The website is easy to use and it gives you plenty of options to pick from. Buses in Thailand are pretty popular, so you could always just show up at the bus station and get a ticket there too.
I mentioned "vans" above. What did I mean? For shorter transfers, sometimes you'll get a van instead of a bus. I had a van from Krabi to Koh Lanta.
---
POPULAR TRAVEL ROUTES (Click on destinations to check the price)
From Bangkok:
From Chiang Mai:
From Krabi:
---
How to Get to Thailand Islands by Ferry
If you're planning on doing Thailand island hopping while you're there, you will likely have to take a ferry at some point. If you're booking with 12GO, you can have a mix of bus, van or ferry to reach your destination. Another option would be to go to the pier yourself and book your ticket there.
If you're wondering how to get around Thailand islands, the best way is to rent a scooter or use the transport options as mentioned above.
---
POPULAR TRAVEL ROUTES (Click on destinations to check the price)
From Bangkok:
From Koh Phangan:
From Koh Lanta:
---
What's the most budget-friendly option when it comes to getting around Thailand?
As I mentioned above, the most budget-friendly option would be to travel around Thailand by bus. You can plan your trip and your expenses by looking at the options on 12GO in advance. There aren't any sales when it comes to buses in Thailand. The prices are normally fixed but can change during the high season.
What's the best way to travel around Thailand?
The first thing to keep in mind when planning your trip to Thailand is to create a smart itinerary. You want to plan the best route to travel Thailand considering different factors (how long you have in Thailand, what will be the season, etc.) Internal travel in Thailand can sometimes be long. That being said, if your trip is going to be short, you won't want to waste time traveling on a bus for hours. In that case, the best way to travel around Thailand would be by flight or by train.
Depending on your budget and priorities, your options might be different!
How to book your transports in Thailand?
As I said before, 12GO is a golden tool to book transports in Thailand. You can pay directly online which makes my life easier. Although, you could always book at your accommodation, at the bus stations or at the pier. You can then compare prices. You should know that booking at your hostel might be more convenient, although, it might be a bit more expensive.
Planning your trip to Thailand?
You can book your accommodation on Booking.com or HostelWorld. Make sure to get travel insurance before your trip too. You can check the options on Worldnomads or Safety Wing. (Safety Wing is better (and cheaper) when it comes to long-term travel.)
You can always read more about Thailand:
Get your monthly (and funny) dose of adventures! Subscribe now! #YesPlease
Are you enjoying this website? If your answer is yes, you should use my affiliate links to book your accommodation for your next adventure: Booking.com, Agoda and Hostelworld!

Disclaimer: This post may include affiliate links. Happy travels!